Samsung announces PixCell LED for adaptive drive beam auto headlamps
A relatively large monolithic LED chip includes individually-addressable pixels for smaller LED headlamps with extended feature sets including adaptive drive beam technology.Maury WrightApr 21st, 2021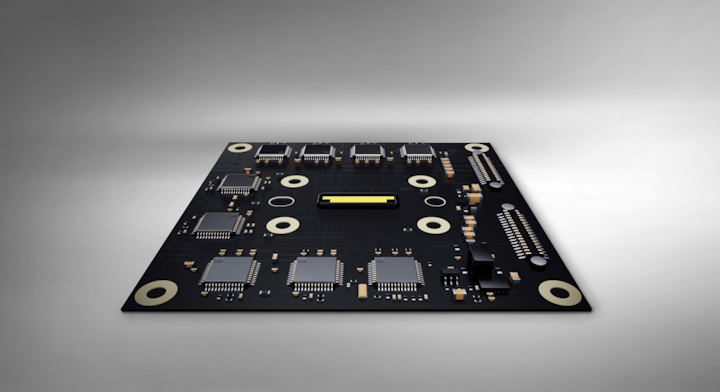 New LED chip technology from Samsung, dubbed "PixCell," is designed to enable adaptive drive beam and other headlamp functions with sophisticated granular control of individual pixels. (Photo credit: Image courtesy of Samsung.)
Samsung Electronics has announced a new auto headlamp technology it calls PixCell that enables control of 100 individual pixels or segments in what appears to be a monolithic LED chip. The design uses barriers grown into the structure between adjacent pixels to eliminate crosstalk and enables the device to deliver a contrast ratio of 300:1. Meanwhile, the functionality of a headlamp based on PixCell is captured in software that controls the driver electronics, enabling a headlamp to deliver high beam, low beam, or adaptive drive beam (ADB) functionality.
Samsung describes the PixCell LED as "monolithically integrated." Generally, in the electronics field, a monolithic device is one where multiple components are grown on a monolithic substrate. For example, advanced digital ICs have millions of transistors integrated on a monolithic substrate with the transistors created during a multi-step, wafer-level process. Likewise, LEDs are grown in reactors in an epitaxial process. But generally, the individual LED die are then singulated and when used in arrays are combined on another substrate.
We have asked Samsung for details about the use of the term "monolithically integrated" and have yet to receive an answer. It is certainly possible to carve a monolithic structure of PixCell size out of an LED wafer. But Samsung said the opaque barriers that isolate each pixel or segment are silicon in nature. And while you can grow LEDs on a silicon wafer, the growth layers on top of that substrate must be a compound semiconductor such as gallium nitride (GaN).
Phraseology aside, the functionality of PixCell is quite special. The pixel-level control means only a portion of the beam may be active at any point in time. Software can aim light where it is needed. For instance, light might be directed to the radius of a curve a car is rounding, while light that might distract an oncoming driver is eliminated in real time. We first covered ADB technology when Audi rolled out the Matrix headlamps back in 2013.
The nearby photo of the PixCell module does not do the technology justice in terms of the scale of the device. Indeed, the printed-circuit board (PCB) looks large and complicated. But the light-emitting surface (LES) of the actual LED component is only 15.4×2.7 mm. We assume Samsung approximated the LES as a rectangle even though the photo shows that not to be exactly true. The PCB includes the complex driver electronics needed to individually control 100 pixels. Samsung did not publish the size of the PCB but said that it reduces the overall size of an individual headlamp assembly by 30–50%. A video Samsung released shows dramatically the reduction in size of a headlamp assembly enabled by PixCell.
"Much more than a simple automotive lighting source, Samsung's PixCell LED is based on new lighting technology designed to improve road safety and driving convenience," said Un Soo Kim, senior vice president of the LED Business Team at Samsung Electronics. "Beginning with PixCell LED, we will introduce tailored lighting solutions well-suited for future automobiles, including electric and autonomous vehicles."
Of course, Samsung is far from alone with innovative approaches to ADB designs. Back in the fall of 2019, we covered announcements from both Osram Opto Semiconductors and Nichia on enabling technology for ADB implementations. Osram has shown an array with 1024 pixels called Evyios that would be delivered on a hybrid rather than a monolithic device. And the Nichia product relied on dense integration of Infineon transistors in the driver circuit for a 16,000-pixel array.
Back to Samsung, the company said it has already delivered enough PixCell components to outfit more than 300,00 electric vehicles with the technology. Samsung did not identify the auto manufacturer involved.